Whether you're a first time visitor or you've been at Faith for decades, sometimes we want to serve but don't know where we fit in. "I'm at church. Now what? Where do I go from here?" If that sounds familiar, follow these stepping stones. This stonework is based on the Faith Lutheran Vision as seen in the graphic here. We want others to feel welcomed in worship, gathered with community, equipped for purpose, and finally, like there's a place they're comfortable serving.
Worship with us! Come to a Sunday or holiday service to see how our congregations prays, sings, interacts, and shares in the glory of God. Any questions you have during worship from "where are the bathrooms?" to "anyone here can take communion?" can be asked to the greeters or ushers - - the folks with the blue name tags. Speaking of name tags…
Get a name tag. You don't have to be a member! Visitors are equally as encouraged to get name tags. We are excited to meet you and learn more about you! At every one of our services, the Welcome Table (table in the sanctuary or outside, depending on the weather) has a piece of paper where you can sign up to get a name tag. Any usher or greeter can point you there. You can also contact Cynthia Kampf – nametag connoisseur and council president – who is happy to order you one. Call her at (530) 680-0925 or email her at ckampf@aol.com.
Meet the staff and other ministers. Pastor Ben would love to meet you one-on-one over lunch, a walk, a hike, or even just in his office. Luke (Dir. Worship & Music), Dani (Dir. Family Life), and Michael (Manager) would also like to meet you. Arrange any meetings with Michael by calling the office at (530) 895-3754 or emailing office@chicofaithlutheran.org.
Get set up with Elvanto, our member database. Aside from using Elvanto to keep contact info like phone numbers and email addresses, it is also our giving software.
Take the Spiritual Gift Assessment Quiz. This quiz helps you discover where your gifts and talents in ministry - and life - are located.
Browse this guide of ministries. If you tested into "hospitality," for example, you can see which of the ministries at our church are hospitality-oriented ministries. Maybe you'd enjoy serving at coffee hour, or greeting people at the door during worship. And there are lots of non-Sunday-worship ministries too, like serving at the food bank, homeless shelters, or even just donated supplies for donation drives.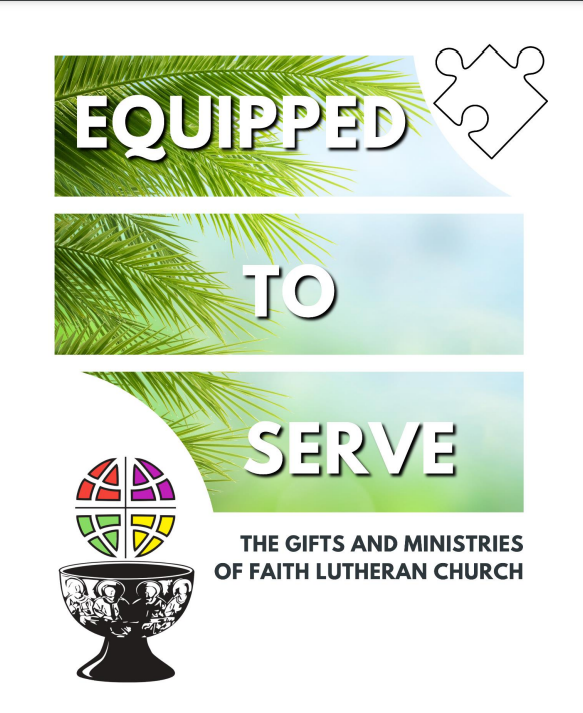 Reach out to Sherrill. We recommend reaching out to Sherrill Heinz (530-518-0433, sdheinz@gmail.com.) Sherrill will say, "Oh, you have X spiritual gift? You might want to meet So-and-So! Here's their number." You are welcome to reach out to Pastor Ben or Michael by calling the office at (530) 895-3754 as well. And finally...
Serve! When the time comes to serve, we will walk you through every step of the way with open arms and hearts, so that you too feel welcome and can help others to pull up a chair at our table.