COVID-19 Precautions for In-Person Worship

Before you arrive at worship, please consider bringing your own lawn chair and a hand-fan. We still strive to seat you in the shade, but it gets hot! Please don't come if you have a fever or cough. If you have come to one of our services and have since tested positive for COVID, please inform Pastor Ben. RSVP is no longer necessary.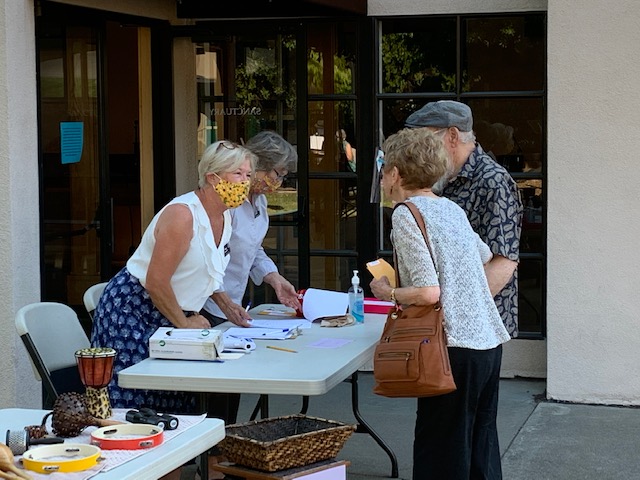 When you arrive for worship, in front of the main entrance to the sanctuary, you will see the Welcome Table. Please check in at the Welcome Table. Our Greeters will welcome you, and explain the procedures so that you know we are taking your health seriously and you know how to care for the health of those worshipping with you. They will then check your temperature using a touchless thermometer and ask you to wear a mask at all times during the service. If you do not have a mask, they will provide you with one made by our wonderful quilters. Wearing a mask and having your temperature checked are done in compliance with the state's guidelines. Finally the Greeters will give a squirt of hand sanitizer and introduce you to an Usher. The Usher will guide you to your seat. Please sit where the usher directs you. The ushers will seat families together, but otherwise will ensure that groups as spread as far apart as possible, with a minimum distance of 6 feet.
During the entirety of worship please wear your mask. Please do not sing or hum during worship. Singing has been shown to be one of the most effective means of spreading Covid-19. For that reason, we will have a maximum of two singing soloists. Instead of singing we will showcase instrumental music. Though brass and woodwind instruments still spread Covid-19 due to blowin through them, we will have guitars, piano, cello and more! Also, because the Lutheran tradition values the congregation as whole making music, we will have percussive instruments available. If you have a percussive instrument, like a drum, triangle, maraca, or xylophone, we encourage you to bring it. During the passing of the peace, please do not leave your seat. We encourage you to bow or wave to the others in worship. We will also not pass an offering plate. Instead, there will be a box in which you can drop your offering as you leave worship. Only Pastor Ben will distribute communion, and he will distribute only the element of bread. There will be no cup of any kind. From the beginning of the Lutheran tradition we have affirmed that Christ is fully present even if only bread or only wine is available for communion. The only bread will be gluten free wafers. There will be no coffee hour after worship. We know you're all excited to see each other, but please maintain six feet of separation as you greet each other.
Worship at Faith
Faith Lutheran Church worships on Sunday mornings and Wednesday evenings throughout numerous seasons of the church year. The worship at Faith Lutheran has a rich and vibrant history that spans across numerous traditions; many traditions which draw their diverse inspiration from countries, communities, and various media. Services, whether they be on Sunday or Wednesday evening, could include music from the Taizé community in France, videos from families in the congregation and community, art from local and national artists, sermons bridging a variety of topics and more. We hope that you will come and join us!
We sing and play a wide variety of worship music including classic masterworks, hymns, gospel music, and songs from all over the world! Faith is fortunate to have our FLC Choir, Resurrection Brass, and Contemporary Worship Instrumentalists to worship and sing with us. You don't have to be a church member to share your talents with us - - we welcome anyone with a love of music to sing and play with us! Contact Luke Nicolay, our Director of Worship and Music if you're interested.
Faith Lutheran also provides a space for several local music groups such as Uncle Dad's, the Chico Children's Choir, the Music Teacher's Association, North Valley Chamber Choir, and more! We also enjoy collaborating with other churches, so please reach out to us if you are in need of a facility in which to rehearse, or have a collaborative event in mind.
Worship Throughout the Year
Sunday Services
Because of the Coronavirus, Sunday worship times are subject to change in 2020 and 2021. Live, in-person service takes place Sunday mornings. Online worship is available each Sunday.

Ecumenical Prayer & Supper – Annual
Dinner, followed by worship with various congregations in Chico

Taizé Prayer and Labyrinth Walk – Seasonal
Worship and contemplative prayer using the elements of walking the Labyrinth and confession.

Ash Wednesday – Spring
Imposition of Ashes and Holy Communion.

Wednesdays in Lent – Spring
Gather with community churches to share ecumenical Wednesday-evening suppers with great food and inspiring worship.

Sunday of the Passion (Palm Sunday) – Holy Week
Gather with palms in the courtyard and process into worship, led by the cross.

Maundy Thursday – Holy Week
Holy Communion with foot washing and Stripping of the Altar.

Good Friday – Holy Week
Adoration of the cross.

Vigil of Easter – Holy Week
Lighting of the Paschal flame and candle, vigil reading, and song. Baptism, Holy Communion, followed by celebration.

Easter Day – Holy Week
Two services with Holy Communion led by choir, brass, contemporary musicians and organ, plus an egg hunt for the kids!

Day of Pentecost – May
Two services with Holy Communion led by choir, brass, contemporary musicians and organ.

Ember Days – September, December, March
Prayerful, seasonal reflection and attention to how God is revealed in creation; allowing nature and seasonal cycles to inform our understanding of God and of ourselves.

St. Francis Blessing of the Animals – October
Blessing of the Animals in the courtyard.

All Saints Day – November
Bring photographs, place flowers, light candles, pray, and sing to remember our loved ones. Service concludes with a blessing at the Columbarium.

Women's Thankoffering Sunday
The women of our congregation (and the ELCA) collect what they've saved for the year and is given to the WELCA organization.

Wednesdays in Advent – November, December
Gather for evening suppers and inspirational worship.

Advent Workshop – December
Faith's coup de grâce; arts, crafts, music and worship during our Advent season, including gift wrapping, chili cook-offs, and fun for everyone.

Christmas Eve – December 24
Children's Service: Holy Communion service especially for children followed by concert of choral and organ music. Candlelight Service: Holy Communion with candle-lighting and song.

Christmas Day – December 25
Casual worship the morning of Christmas.